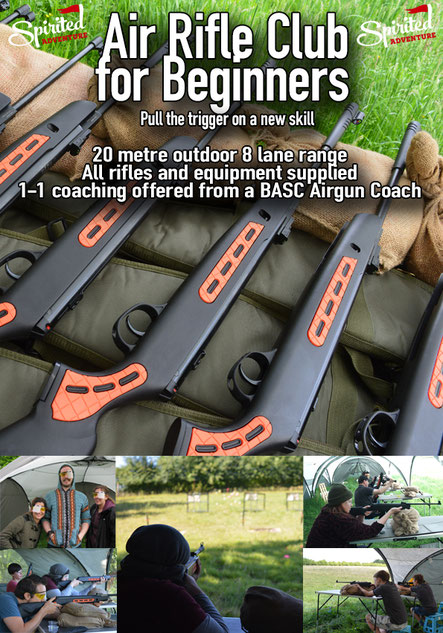 ---
---
This air rifle club is designed for the beginner and novice who wishes to learn the safe
sport of air rifle target marksmanship.
You must be aged 8 or over to join.
All under 18's must be accompanied by a parent/guardian or suitable adult.
With 8 lanes our maximum for any Monday evening is eight shooters, so if you'd like to attend the club you must book & pay for an evening session in advance.
All rifles, pellets, targets & safety equipment will be supplied.
You may bring your own rifle with you, but we must be informed in advance.
We will need to check your rifle to make sure it is safe to and legal to use.
We will not accept any FAC rated Air Rifles.
---
Availability
 Booking closes at 4.30 pm on the day of the session.
School Summer Holiday dates - 
Monday 21st August
Monday 28th August
Monday 4th September
If there are no available places on a particular night, please get in touch as we can put on more club nights to meet the demand.
Places will be given when a payment is received.
No refunds are available due to the short notice and frequency of club meetings.
---
Paying & Booking
The sessions cost £20 per shooter.
We operate a 'first come, first served' system so to avoid disappointment please remember to book & pay in advance.
You may book for as many sessions as you'd like.
Do not just 'turn up' and try to pay at the gate if the club is full you will be refused entry. 
---
Or To Pay With PayPal click the logo below
How To Pay
To pay in advance please use Paypal.
Select GBP and enter the correct amount.
In the notes please add your full name / shooters name & age / club / the date you want to attend
For example. - Jon Smith/ Jimmy 10 / Club/ 11 July.
---
Booking & further details
All you need to do is contact Spirited Adventure
and we'll call you back and arrange your Adventure with you
To Book and discuss your requirements please fill in this form making sure you include a phone number so we can text to let you know to look out for an email which may go into your junk/spam folder.
---
Meet & Greet
Shooting starts at 6pm on the Range until 8pm
All club members must arrive early to park vehicles and walk for 5 minutes to the range.
All new members must arrive at the gates by 5.15pm where you'll be met by one of our instructors who will inform you where to park etc. You need to arrive early in order to get to the parachute HQ to have the introduction and safety briefings at 5.30 before you will be allowed to shoot from 6pm.
If you are late we can not hold up everybody and wait for you, if you miss the briefings you will not be allowed to shoot that day.
---
Rules
All new club members must attend and complete the introduction and safety briefings from       5-30 pm at Spirited Adventure's woodland camp before entering the range at 6pm to start shooting. You must arrive at the gate by 5.15pm to allow sufficient time to walk the short distance to the camp.
Further rules and regulations regarding safety, range commands, rifle safety, how to behave on the range and the necessary forms to complete will be explained to you when you attend. 
The Range
The Range is an outdoor range with the shooting positions protected from inclement weather. Please wear appropriate clothing for an outdoor experience.
Facilities
We are a bushcraft and marksmanship business which means all our facilities are outdoors in the woods. We have a large parachute in the woods where you can relax and refresh. Our two outdoor tented toilets are self composting with washing facilities.
All our areas are a short distance from each other.
---
Agreement
By reading this web page and proceeding to pay and book a place you are agreeing that you understand the club format, that you are fit and healthy to attend an outdoor activity and that you agree to follow all the rules and regulations.
You are also informing Spirited Adventure that you do not have a criminal record and have not been imprisoned for 3 months or longer as, due to the law regarding firearms, it would be an offence to allow you to shoot.
Spirited Adventure reserves the right to exclude any person who does not follow the rules, behaves in an unsafe matter or disrupts other club members.
---
Further information
If you have any questions please do not hesitate to contact us we will be happy to help. info@spiritedadventure.com
---
---